Durable. Affordable. Customizable.
Corrugated steel panels have been a favourite building material in Canada for years. The simple reason behind this is their durability.  The natural shape of corrugated metal siding gives it a structural advantage over any other panel made of the same material. Additionally, the consistent corrugation helps hide small imperfections over time from weather or impacts.  For these reasons, corrugated steel panels continue to rise in popularity and use.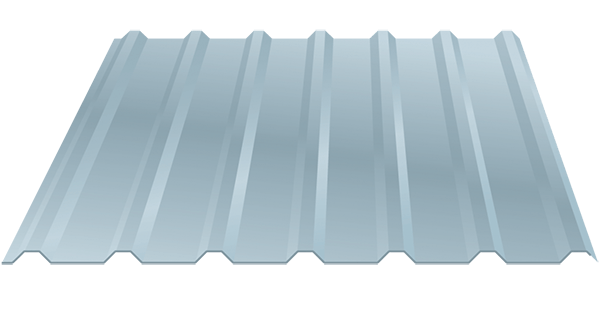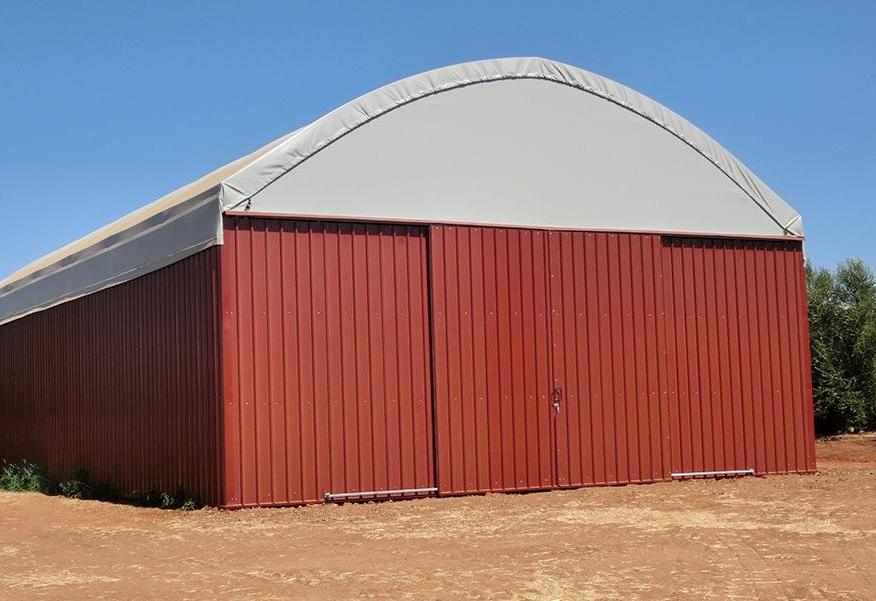 When you order corrugated steel panels from Dura Shelter Buildings you are getting reliable, high-quality products for a price you won't find anywhere else. We even offer additional discounts. When you order We have a minimum order of 1000sq. ft, but when you order 3400sq. ft. (Bundle quantity), you get a huge 20% discount off the prices listed.
CURRENT AVAILABLE COLOURS
Corrugated steel siding is an extremely functional and versatile material but that doesn't mean it can't be unique. Our panels come in multiple colours, so no matter your project you have options to make sure the final product suits not only your needs but your taste. 
INDUSTRY STANDARD COATINGS
All of our steel products have four layers of industry standard coating. First, we coat the base metal with Galvalume coating and Conversion coating which offer superior protection against corrosion. Then comes the Epoxy primer. This primer has an excellent bonding capacity and produces a good surface finish. Epoxy primers not only offer excellent adhesion to metals but also serve as a proper base for the final paint coating that comes after.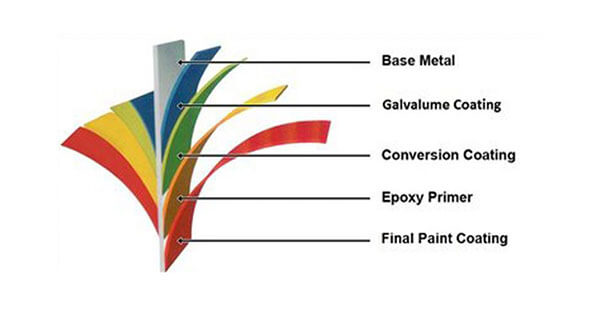 PROTECT YOUR EQUIPMENT WITH CORRUGATED STEEL PANELS
Whether you own or store heavy equipment, RVs, trailers or boats, your assets are covered with Dura Shelter Buildings. With our corrugated steel siding, you can increase the longevity of your equipment by protecting it from the elements.
We keep all of our inventory on hand and keep certain styles and models in stock at all times so we can ensure a quick shipping process. From ordering to processing to delivery – we provide a turnaround time of 60 days.
We stand by the fact that all of our products are high-quality and affordable. Our value is unbeatable. 
"The Dura Shelter team made the entire process of purchasing a fabric building seamless. The sales team tailored my building to suit my exact needs and budget. The installation crew were knowledgeable and friendly; they kept me informed throughout the duration of the project. I would definitely recommend anyone looking for a portable fabric building to work with Dura Shelter Buildings!"
"I am super happy with the double truss fabric building I ordered from Dura Shelter Buildings and the crew that came for the assembly. Building looks great, extremely glad that I choose your building over any others along with it being a Canadian-made product."
"The process went really well. Very pleased with the product, the install and the communication from start to finish. I do appreciate the professionalism and how Dura Shelter Buildings operates as a company. I would definitely use and recommend them again!"
CORRUGATED STEEL PANELS & SIDING YOU CAN COUNT ON
Dura Shelter Buildings has been manufacturing and selling corrugated steel panels and siding to support our customer's needs for more than 15 years. Our products are high-quality and low cost.

Value
We offer unbeatable value for the best quality products on the market.

Quality
We maintain the Canadian level of quality with all of our products & services.

Customizable
All of our products have custom options available to meet any requirements.

On-Hand Inventory
We have a number of styles in stock at all times so that you can get your order faster.

Retail & Commercial
We offer multiple purchase options, including residential and commercial.

Quick Shipping
On every order, we guarantee fast ordering and turnaround for our customers.